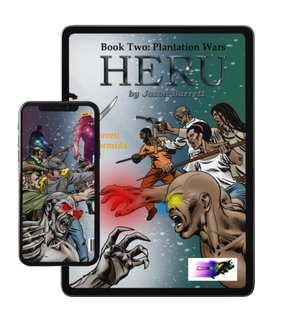 *Digital Download* HERU Book Two: Plantation Wars By Jason Barrett
Sale price Price $2.00 Regular price $10.00
Tax included.
Plantation Wars is the second Book in the 5 part HERU series. The book follows' the battle's between Heru, Cassy, Akeem and the rest of the self emancipated slaves and Master Jones, Overseer Smith and the confederate army!
As Heru struggle's to control his ever-increasing power, he finds his friendship with Akeem strained and his relationship with Cassy under pressure, and Smith finds himself with two new accomplices' who seek to free the Demiurge from his Asteroid Prison and harness his immense power for themselves!
More action, more superpowers Plantation War is a must read for all comic book fans.