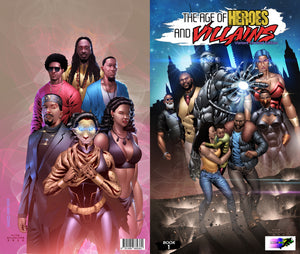 ORDER & WIN! The Age Of Heroes & Villains [PAPER BACK]
Sale price Price £12.99 Regular price
Tax included.
PRE-ORDER NOW TO ENTER
Win your chance to be a starring character in The Age of Heroes and Villains!! 

Have you ever wanted to be in a comic book? Well now is your chance to win the opportunity to be immortalised in a comic book by winning one of five golden tickets!
We have hidden 5 golden tickets in the limited Golden edition of The Age of Heroes and Villains issue one only available on pre-order! If you find one of these tickets you will become a character in books 2 to 5! It's that simple!

Purchase your limited Golden edition NOW! Please note there are only a limited number of golden edition books available so it will be a first come first serve basis... Good luck


ABOUT THE AGE OF HEROES AND VILLAINS BOOK


The Age of Heroes and Villains is the latest series from Jbeon Comics coming Winter 2020 and is quite possibly the most exciting series of the decade.
Join Mega Man and Lioness as they try to save the "Child" from The New Age Outlaws run by Don and Dutch, The Syndicate put together by Banks, Big Tobz, Frost and Mist and the mysterious White Tigers! 
Who is the child? Why do they want her and why have the Shifters come to New Accra for the first time ever?
All these questions and more are answered in The Age Of Heroes and Villains!!!